This shop has been compensated by Collective Bias, Inc. and its advertiser. All opinions are mine alone. #CampbellsShortcutMeals #CollectiveBias With six kids going to school this fall, I am already looking and planning recipes for the fall and back-to-school schedules. I need quick and easy! My inspiration is walking the aisles of Walmart and stocking my pantry with staples for all my go-to recipes. This One-Skillet Veggies & Chicken Pasta is on the menu!
I may feel all the crazy coming my way with busy schedules this fall, but I am going to be prepared with awesome dinners for the whole family to love and enjoy.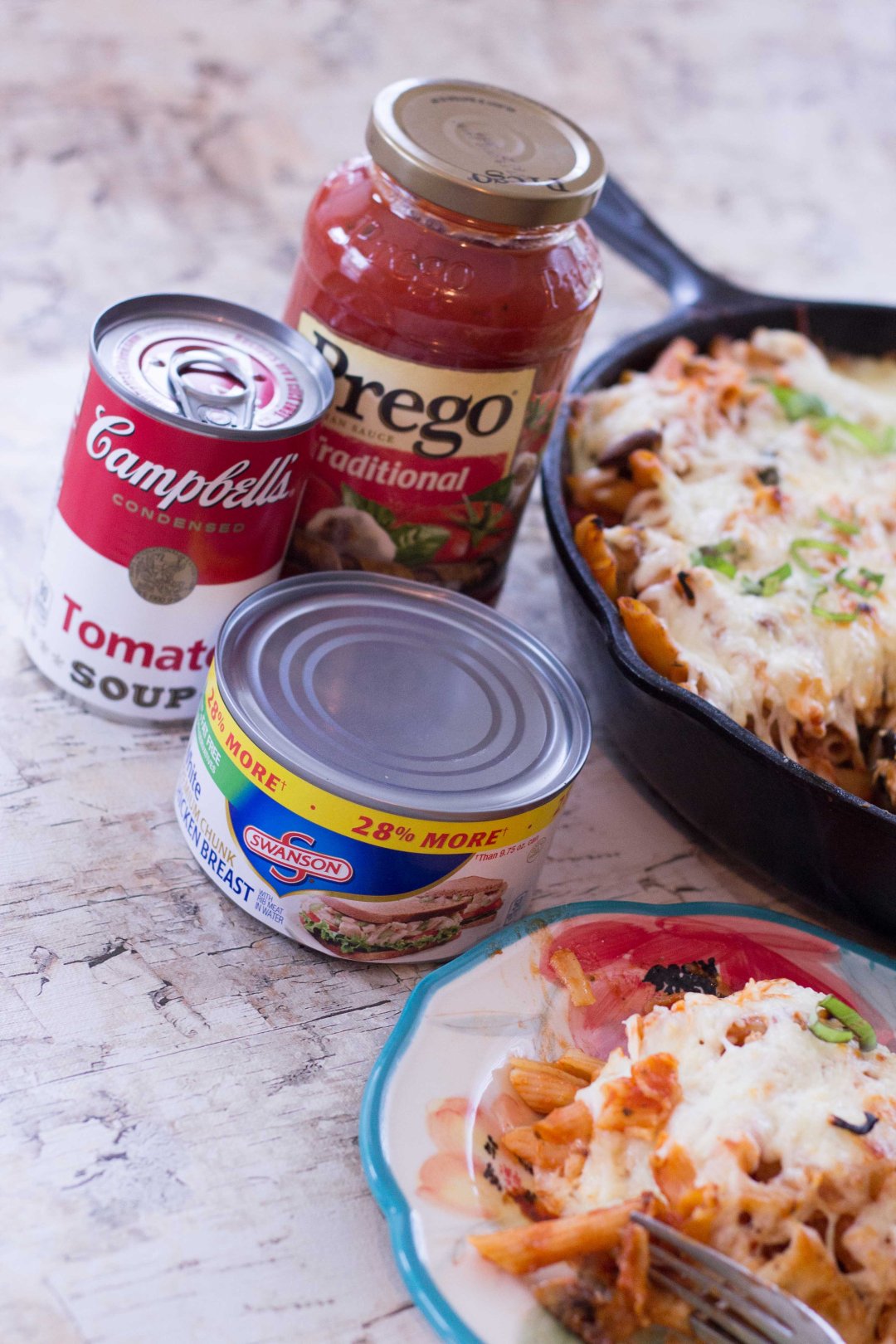 Ready to shop for delicious Campbell Soup Company products? Hover over the photo to click through to Walmart.com and purchase them! Have you seen all the one-skillet recipes on Pinterest? I have been very inspired by them. Not only do they look delicious and easy, but also the whole One-Pot to Wash has a certain allure to this momma! My pantry is my saving grace when it comes to being ready for the crazy life when the kids are in school. I re-stock my pantry every time I am Walmart. A well-stocked pantry keeps me from being tempted to break my budget by stopping for fast food.
Prego® Italian Sauce is always on hand for pizza night, quick spaghetti and recipes like this One Skillet Veggie & Chicken Pasta. Everyone in the family loves it. Rich flavor, with real ingredients, homemade taste and easy to grab for a quick dinner solution. I always have Swanson® Premium Chicken in the pantry for those days I completely forget to thaw out chicken! This already cooked, low fat, ready to use can has saved me more than once in a pinch!
Campbell's® Condensed Tomato Soup is essential for grilled cheese sandwiches. Which is a staple lunch in our home. It feels like a tradition in our family with both my husband and I growing up on it and now our own children love it. We always have at least a couple cans in the pantry for a delicious meal and also a great quick recipe ingredient! If you have not created a pantry for your home, I cannot recommend it enough! In this fast pace life we live as moms, a well stocked pantry is essential.
I love these one-skillet recipes so much! My cast iron skillet is perfect for this recipe. You can use any skillet that is oven safe. I promise with this recipe you don't even use another pot to boil water for the pasta! It is true to its word, and you will only use one-skillet. The veggie content in this dish is high. I love that I can add as many veggies to this recipe as I want and my kids will gobble it up. Feel free to change up the veggies in the dish. I tend to go with whatever is in season. This time I had onions, green bell peppers, mushrooms, & zucchini. But I know that this dish has the flexibility to be altered to your family's veggie favorites.
One Skillet Veggie & Chicken Pasta
2017-06-26 19:36:24
Ingredients
1 medium Onion, diced
1 medium Green Bell Pepper, diced
8 oz. Mushrooms, sliced
1 medium Zucchini, diced
1 tbsp diced Garlic
2 tbsp Olive Oil
1/3 tsp Salt
1/4 tsp Black Pepper
1/2 tsp Dried Oregano
1 can Swanson® Premium Chicken
1 jar Prego® Italian Sauce, Traditional
4 cups Water
12 oz. Penne Pasta
2 cups shredded Mozzarella Cheese
Instructions
In an oven proof skillet, sauté vegetables in olive oil.
Add garlic, salt, pepper, oregano, and canned chicken and stir to mix.
Scoop out veggies & chicken onto a plate.
Stir water & Prego® Italian Sauce together.
Add pasta and turn heat to medium.
Simmer pasta until al dente' (approximately 20 minutes)
Add veggies & chicken to pasta and toss to mix.
Top with shredded cheese.
Place skillet under broiler for 6-8 minutes or until cheese is melted and bubbly.
All My Good Things https://allmygoodthings.com/
I am sure you have a few go-to, easy weeknight recipes in your back pocket for the fall! Please, share!
Don't forget to stock your pantry! Click HERE for more shortcut meal inspiration now!
Happy Eating, Keikilani