This post is sponsored by Tyson Foods, Inc. All comments and opinions are my own.
The backyard life is my favorite kind of life! The kids playing in the yard, husband watching a baseball game on our patio, and me prepping something yummy, like these Balsamic Herb Chicken & Sausage Kabobs to go on the grill. That is my version of a perfect evening!
We are in the process of furiously preparing for summer. We planted our container garden, dug up and moved bushes around the yard, building an outdoor bar, and stocking our fridge & freezer with our monthly trip to Sam's Club with Tyson® Boneless Skinless Chicken Breasts, Hillshire® Smoked Sausages, & Ball Park® Beef Franks.
Having a bag of individually frozen Tyson Chicken Breasts allows me to pull out exactly what I need for each recipe. This recipe calls for 3 breasts or 6 if you are doubling the recipe. Stocking up allows me to be confident I have everything I need for a great meal on the grill and also gives me flexibility to invite friends and family over last minute!
If you are not a member at Sam's Club yet, you are missing out on great deals! Sam's Club is perfect for families who love grilling and entertaining. They are now offering Club Pickup (order online and pick up at your club), Scan & Go (my personal favorite, you scan items on your phone as you shop and skip the checkout line), and Instant Savings (extra savings on already low prices).
Sam's Club is offering a $20 gift card for those who become a member right now. We have been members for years. It's one of our families favorite places to shop!
Savings.com is also giving away 5 Sam's Gift of Membership gift cards!!! Scroll to the bottom to enter or click HERE for more details!
There are a thousand ways to grill chicken breasts. Of course, there is the classic bbq that is always a crowd pleaser, but when I want to switch it up and make a dinner that is light, full of flavor, and fresh veggies, I will go to this recipe that is so easy, Balsamic Herb Chicken & Sausage Kabobs.
The key to preventing your chicken from drying out on the grill is marinating your chicken before grilling and then watching the grill closely to keep from overcooking the skewers.
The marinade is easy and quick. Balsamic vinegar is one of my favorite vinegars as it creates a sweet, tangy flavor when caramelized. The veggies are also tossed in the same marinade before sliding onto the kabob sticks.
If you are using wooden skewers for your kabobs, make sure you soak them in water for at least 10-20 minutes before making your kabobs. Otherwise, they will catch on fire and dinner will not turn out quite like you wanted.
Tip: Cut the chicken breasts, sausage & veggies to be approximately the same size. This will help with even cooking and allow the kabobs to lay flat on the grill.
Balsamic Herb Chicken & Sausage Kabobs
Ingredients
1/4

cup

Balsamic Vinegar

1

tbsp

Italian Seasoning

1/4

cup

Olive Oil

extra virgin

1/2

tsp

Salt

1/4

tsp

Black Pepper

1/2

tsp

Garlic Powder

1/2

tsp

Onion Powder

3

Tyson Chicken Breasts

thawed

1

Hillshire Smoked Sausage

2

Zuccini

1

large

Onion

2-3

Roma Tomates

8-12

wooden skewers
Instructions
Soak wooden skewers in water 10-20 minutes

Cut chicken, sausage, & veggies approximately the same size. (2 inch pieces)

Remove 1/3 of marinade and reserve.

Place chicken & sausage in a zip close gallon bag and pour 2/3's of the marinade over chicken & sausage. Place in fridge for a minimum of 30 minutes.

Toss veggies in reserved marinade.

Assemble skewers layering veggies, sausage, & chicken.

Turn on grill, brush grates with oil using a paper towel or basting brush to keep skewers from sticking. Heat to 450˚

Place kabobs on grill. Grill 8-10 minutes on each side or until temp has reached 165˚
I usually serve the Balsamic Herb Chicken & Sausage Kabobs with a large Italian Salad. It is the perfect warm weather meal. And the kids go crazy for dinner on a stick!
This recipe can also easily be doubled to serve a crowd or double it to have leftovers to add into salads, wraps, and more over the next few days.
Happy Grilling,
Keikilani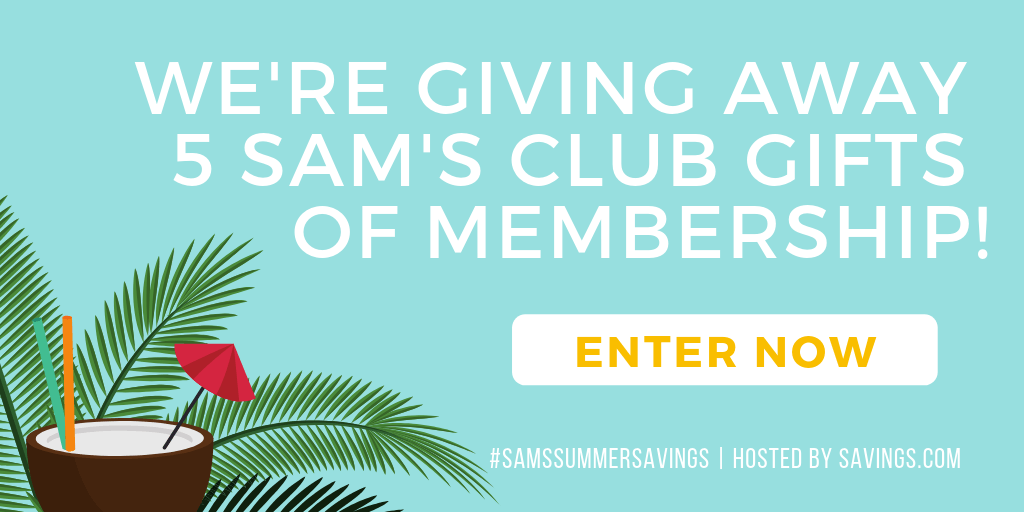 Don't forget to check your ValPak envelope in the mail for details on special offers available for Sam's Club members!