This post is sponsored by savings.com. All thoughts and opinions are my own.
I have a confession to make.
I am a coffee addict.
It's true. Even the smell of coffee beans in the grocery store isle makes me crave a cup.
My love of coffee began in high school, but it was when my twins came home that the true addiction began.
Let me be a little specific for you. My coffee MUST be rich, dark, bold, and a smooth flavor. It has to fill the house with its rich aroma when brewing. It has to taste great and be consistent quality.
One of my go-to coffee brands that has been a favorite for over a year is Community® coffee. I first found it at HEB, then Sam's Club, and now at Bed, Bath & Beyond in single serve 18 count boxes of their Breakfast Blend & Signature Dark Roast.
The Signature Dark Roast is one of my all time favorites!
Community Coffee Company is more than 100 years old and is the largest family owned and operated retail coffee brand in America. I think it is possible they have a bigger coffee addiction than I have!
The first thing I do in the morning is brew a cup of coffee and sip on it as I wake up kids, gather backpacks, and do hair.
After the kids leave for school, it is time for another cup! This second cup is often a bit more "fancy" with steamed foam cream and brown sugar as sweetener for a little change up in flavor, but the star is always the coffee.
I do my best to wait until 2 to have my 3rd cup. But it sometimes happens just after lunch. I can't get over the amazing rich flavors Community® coffee has in every cup. Trust me, if you are also a coffee addict, you MUST try it ASAP!
In fact, you can get an instant 20% savings on Community Coffee purchased online or in-store from October 25th – November 11th. AND this offer is stackable with the regular Bed Bath & Beyond coupons!
Also, enter the #CommunityCoffeeAndBeyond giveaway on Savings.com.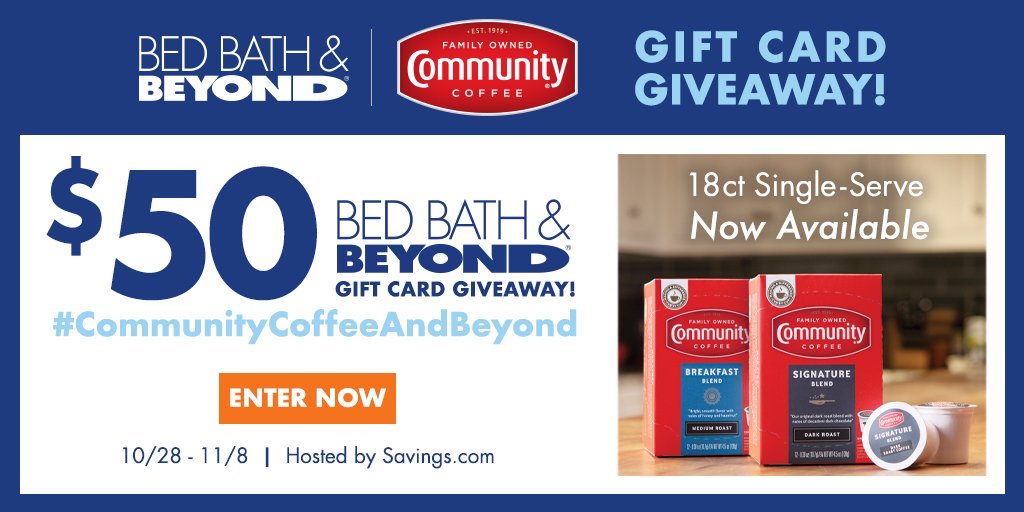 I hope your morning coffee was rich, bold and amazing. And hopefully, Community Coffee!
Love,
Your Fellow Coffee Addict