This post is sponsored by Sivan Social. All comments and opinions are my own.
Can you believe that the holidays are practically here?!
If you haven't yet, it's time to break out your favorite list making app or your handy-dandy notebook and create a list of all the people you want to give a gift to and don't forget to make a list of all the delicious FOOD you want to make and eat!
Good food during the holidays is just as important!
This year, I'm streamlining how I am shopping due to the certain "germs" going around that I don't want to spread. I'm planning on shopping at just a few stores and ordering online or pick up.
Sam's Club is our favorite place to shop for bulk food because we have a huge family of 8. But it's also an amazing place to shop for holiday decor, gifts for the kids, grandparents, and husbands (think grill).
They have a huge selection of holiday treats and everything you need for your big holiday feast (even if it is reduced in size you can still make it delicious and special).
Check out all of the holiday gift ideas, decor, and seasonal items available right now at Sam's Club. There are over $4700 in Instant Savings! Be sure to check out the upcoming sales, club hours and cutoff dates. Order early to ensure delivery before Christmas! Don't forget that Sam's Club offers Scan & Go as well as Curbside Pickup options!
If you are not a club member yet, then you can join right now for just $45 and you will get a free Rotisserie Chicken, Take & Bake Pizza, and 8 count cupcakes, valued at $20.95. (Think dinner done for you in seconds!)
Here are some of the deals I'm most excited about:
This Kitchen Aid Mixer set has me drooling! The extra bowl and tools are a HUGE win!
If your hubby is into grilling but not into freezing during the winter… Then check out this Power Smokeless Grill!
I don't want to waist a lot of time doing dishes during the holidays, so I plan on grabbing these cute holiday paper plates for the kids and my sanity.
Requested a total of 1 million times already by my girls is L.O.L. dolls! This set is in my cart and ready to be shipped!
ENTER TO WIN $100 e-gift card from Sam's Club!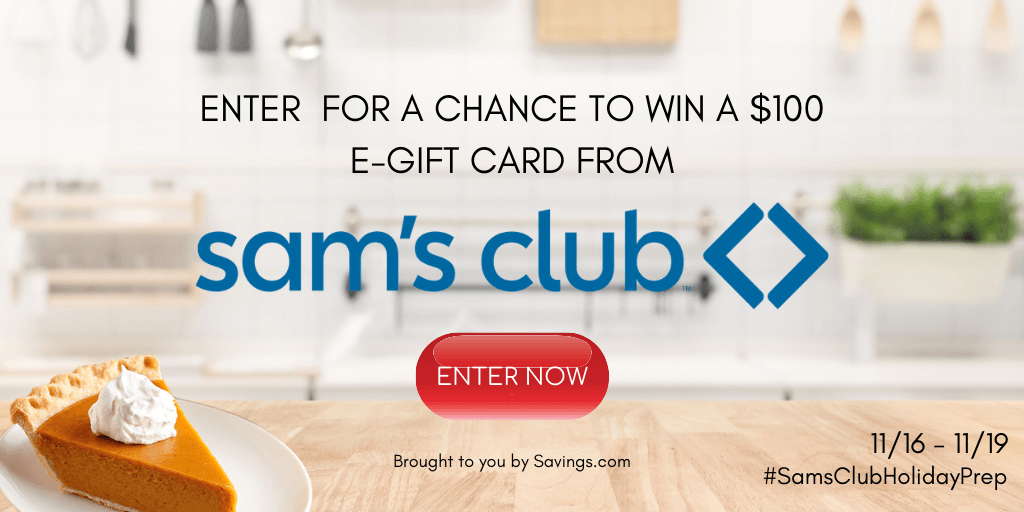 Giveaway starts on Monday, November 16th at 12:00 AM PT
Giveaway ends on Thursday, November 19th at 11:59 PM PT
10 winners will receive a $100 e-gift card from Sam's Club
Enter by clicking the above photo!
See complete Official Rules for entry instructions, full prize descriptions, restrictions and other important details.
I'm excited for the holidays and also ready to focus in at home and let go of all the stress built up over the past few months. I hope you are too!